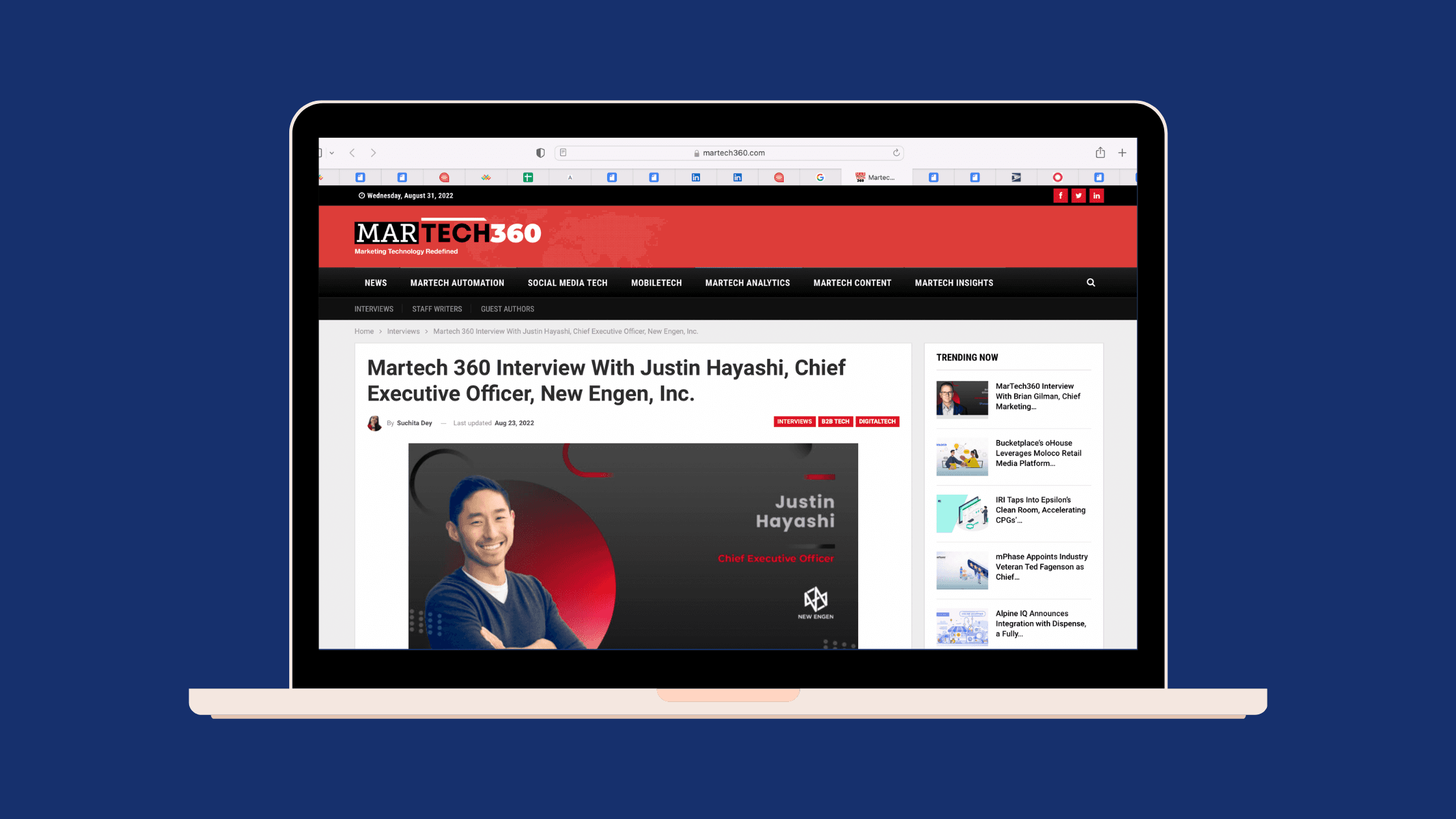 SEATTLE, WA - New Engen CEO, Justin Hayashi, recently connected with Suchita Day from MarTech360 for an engaging interview to discuss his career journey, predicting and preparing for the future of e-commerce, building a brand in this ever-evolving digital environment, and what sets New Engen apart.

For anyone looking to grow as a leader in their field, Justin shares his tips for success, reading recommendations that influenced his leadership journey, as well as New Engen's most used apps. (Spoiler alert: Slack is where it's at!)

Suchita asks, "What sets New Engen apart from competition since digital agency space is crowded?"

Justin responded, "New Engen's ability to deliver agile creative powered by performance media and measurement sets us apart. By definition, our offering is geared for performance and creative innovation – finding the most powerful possible intersection of creative, technology, data and the psychologies of response – is central to that. As just one example, instead of say focusing on something like a Super Bowl commercial that wins us a 60 a second ad, we set our eyes on digital first content that will supercharge growth in an accountable, measurable way. We've got everything from video editors, performance designers, media strategists, data scientists, influencer marketers – all the ingredients of an agile content team that ensures you are cycling through in the most performant way across the entire digital ecosystem." Read the full interview here.

About MarTech360
MarTech360 covers marketing technology news, editorial insights and digital marketing trends from around the globe. Updates on modern marketing tech adoption, interviews, tech articles and events.

About New Engen
New Engen is a performance marketing agency helping brands find breakthroughs to unlock and accelerate growth. Born digital, tech-forward, and performance-driven, we lean on a data-driven, agile approach to marketing strategy and creative development to help brands outpace their competitors and stay ahead of the ever-evolving digital ecosystem. New Engen is based in Seattle with offices in New York, Los Angeles, Charlotte, and Charlottesville.