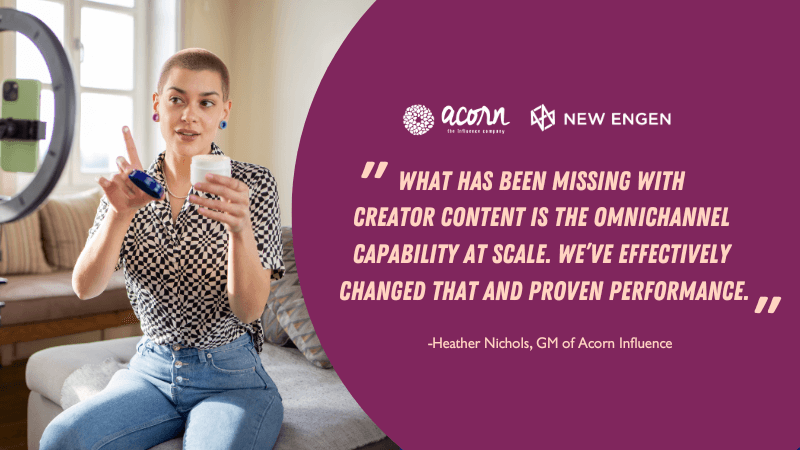 SEATTLE, May 09, 2023 (GLOBE NEWSWIRE) -- New Engen, a leading performance marketing agency, announced that Acorn Influence, a New Engen company, and the hub of the agency's influencer practice, is launching their Performance Creator full-service solution, providing strategy, planning, and activation tools, to help brands scale their influencer marketing investments. The new, first-to-be-proven solution effectively extends creator content across the funnel, helping brands unlock incremental digital scale, measure impact of efforts, and fuel authentic relationships with consumers.

The Performance Creator Solution also positions Acorn to meet consumers where they choose to view their content. Traditional TV viewers continue their mass exodus, the rise of AVOD (Advertising-based Video on Demand) is stealing market share from SVOD (Subscription Video on Demand) — AVOD spend is expected to grow to $21B in the U.S. by 2026 (ANA, 6/22). With this growth comes the insatiable demand for content to supply inventory while marketers struggle to decrease ad fatigue. Acorn's premium influencer video for CTV is a hero solution through its authentic, engaging, and relevant content.
"Marketers are investing significant budgets in creator strategies and those investments could be maximized further with a provider that can continuously optimize the right creative to the right audience at the right time," said Heather Nichols, GM of Acorn Influence. "We know from our own analysis across hundreds of campaigns that influencer content drives 17X more engagement than branded assets alone. Creators provide authentic and engaging content that alleviates consumers and shoppers' advertising fatigue. It drives habit to destination and builds genuine relationships for brands and their audiences. What has been missing is the omnichannel capability at scale. We've effectively changed that and proven performance."
The Performance Creator Solution, which provides support on everything from strategy and planning to trafficking and full execution, helps brands streamline and scale their investment in creator marketing. The solution allows for strategic paid distribution of organic creator content beyond social channels and across all programmatic media, inclusive of CTV. The service supports a feedback loop between paid ad performance and organic content, feeding audience insights that fuel hyper-targeted and engaging content for informed performance at scale.
How It Works
The solution facilitates performance by serving custom content ads at scale across all digital environments to reach the right audience wherever they are. In the process, the solution:
Unlocks additional digital inventory
Drives accountable growth, as marketers can determine the impact of these efforts, including opportunities for retailer conversion
Provides performance learnings from programmatic campaigns that can inform future influencer marketing efforts
Allows brands to realize optimal value from authentic creator generated content, rather than needing to produce additional costly assets to run against programmatic and CTV inventory
Results
Acorn leveraged the Performance Creator solution to extend influencer content beyond the firewalls of social media for a major beverage brand at a mass retailer. After curating a group of retailer-affinity, influential moms to create organic content encouraging shoppers to purchase products in-store and online, Acorn then extended the content through paid social placements on Meta and TikTok, as well as CTV placements purchased through the mass retailer's own DSP, leveraging their first-party data. This effort drove over 3X ROAS for the beverage brand.
Similarly, Acorn partnered with a large CPG brand in the food space to position their portfolio of products as the preferred choice for March Madness and drive sales in the club channel. Acorn leveraged organic creator content and extended it across paid social and CTV – reaching over 500,000 unique households. The engaging influencer video featured across Acorn's CTV placements, inclusive of ESPN, CBS, HULU, TNT, and HGTV, drove authentic connections. By pairing the creator content with the hyper-targeting of paid channels, the brand was able to drive purchase occasions with a 99% VCR (video completion rate).
Lindsey Campbell of The Mars Agency said, "Acorn is a trusted partner for 'test and learns' with seamless execution and guaranteed results. As Director of Customer Development on behalf of CPG brand's marketing initiatives at Walmart, I've worked with numerous solution providers. Acorn consistently delivers excellence and innovation with unwavering support."
For more information about the Performance Creator Solution, contact Ali Smith, SVP, Head of Sales: asmith@acorninfluence.com.
About Acorn Influence
Acorn is one of the fastest growing companies in the rapidly expanding influencer marketing space. Their integrated influencer network, technology and campaign solutions are the choice of more than 50 of the world's leading advertisers, including household names like General Mills, Mondeléz, Coca-Cola & more. From influencer curation, to content development, media deployment and measurement, Acorn has developed a seamless process to create maximum impact and drive accountable growth for their clients. Acorn has been named to Inc. 5000 Fastest Growing Company for 2021 and 2022. Learn more at www.acorninfluence.com.
About New Engen
New Engen is a performance marketing agency helping brands find breakthroughs to unlock and accelerate growth. Born digital, tech-forward, and performance-driven, we lean on a data-driven, agile approach to marketing strategy and content to help brands outpace their competitors and stay ahead of the ever-evolving digital ecosystem. Managing around $1B in annual ad spend, New Engen won the 2022 Google Premier Partner of the Year Award for driving Online Sales, is an Inc. 5000 Fastest Growing Company, an Adweek Fastest Growing Agency and was also named to Inc.'s Best in Business 2022 list. New Engen joined forces with Acorn Influence in December 2021 – expanding their offerings to include influencer marketing. Learn more at www.newengen.com.